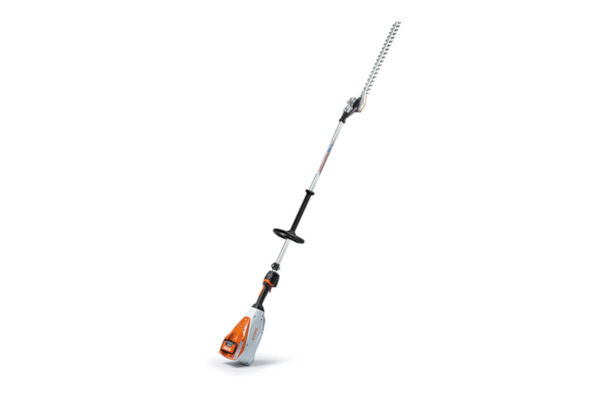 Double tap to zoom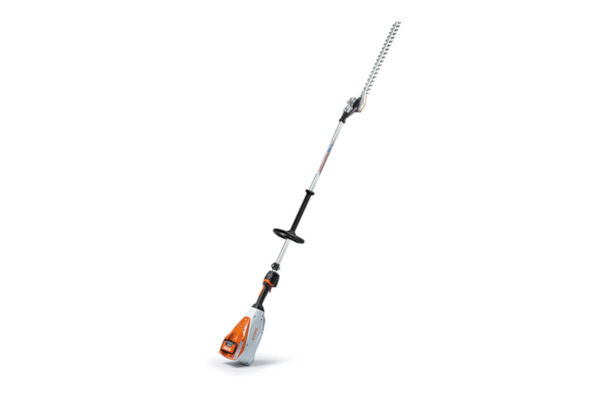 Features
Safety Locking Button
STIHL Battery powered products feature a retaining latch that prevents the unit from unintentional starts when the battery is inserted.
Reduced-Emission Engine Technology - Caring for Nature
The STIHL Inc. "Caring for Nature" seal identifies its powered products that are more environmentally conscious, producing zero or low exhaust emissions. STIHL Inc. defines "low exhaust emissions" as being cleaner than EPA and/or CARB exhaust emission standards.
Onboard battery slot
Features an onboard battery slot to easily allow use with an onboard cartridge style battery or backpack battery.
Laser-Cut Diamond-Ground Blades
Each blade is laser cut and ground using diamond discs. The hardened cutting edges are highly resilient and remain sharp for a longer period of time.
Zero Emission Equipment (ZEE) Certified
ZEE certification indicates professional battery power and environmental responsibility.
Onboard air filter
Onboard metal air filter protects motor and electronics from large debris.
STIHL Electric Motor
Lightweight and compact, STIHL electric motors require minimal maintenance and feature low noise levels and reduced vibration.
HSA56 - Rubberized Soft Touch Handle
Soft rubber texture is both easy to grip and makes the product comfortable to hold for extended periods.  
Double-Sided Blades
The dual-ground blade system provides a clean cut and is ideal for cutting through stronger, thicker branches.
Utilizes the same shaft, gearbox and blades as seen on gas HL 94 extended-reach hedge trimmers.
Utilizes the shaft, gearbox and blades as seen on gas HL 94 extended-reach hedge trimmers.
Multi-Function Control Handle
Having easy access to all of the controls on one comfortable handle helps makes it easier to complete tasks so the operator's hand never has to leave the handle.
High-Tech Polymer Housings
Housings are lightweight, withstand greater impact and are corrosion-resistant.
Lightweight Portability
Great for maneuverability and extended use.
Blade Scabbard
The blade cover helps protect the cutting blade during storage and transport.
Variable-speed trigger
Variable-speed trigger allows precise control for each task.
Compact, ergonomic design
The compact, ergonomic design provides more comfortable use.
Specifications
HLA 135 (145°) Specifications - Professional Use
POWER SOURCE
Battery
WEIGHT
12.4 lbs.
WEIGHT (w/ AP 200)
15.3 lbs.
BLADE LENGTH
24"
STROKE RATE (level 1/2/3)
3,200 / 3,600 / 4,000
BATTERY SERIES
AP Series
RUN TIME (w/ AP 200)
64 minutes
Note: The battery working time specifications for each battery charge are estimates and may vary depending on how the tool is used and what is being cut.
Request A Quote
Request A Quote On Anything
From Inventory To Service!