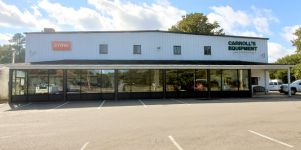 17723 Three Notch Rd.
Dameron, MD 20628
Monday - Friday
8:00am - 5:00pm
Saturday
8:00am - 12:00pm
Sunday
Closed
Call Us: 301-872-5553
Get Directions
At Carroll's Equipment you can expect to find factory-trained service and parts professionals that are committed to ensuring your Equipment keeps working as hard as you do. 
Quality and a positive customer experience don't end with the sale. We are committed to the same exceptional level of service throughout the life of your product.
Fill Out The Form To Request Service
Call us to schedule your next service visit.
Phone: (301) 872-5553
Toll Free: (800) 244-9815
We make hydraulic hoses, stock tires, tubes, batteries and some John Deere parts!
Request A Quote
Request A Quote On Anything
From Inventory To Service!