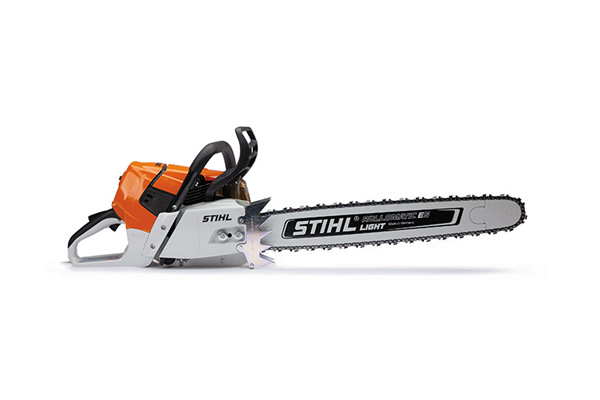 Double tap to zoom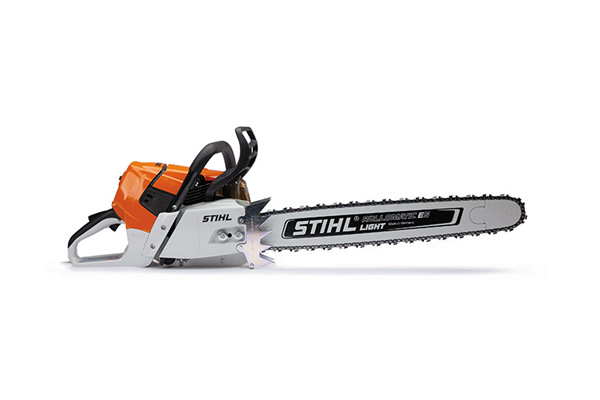 Features
Anti-Vibration System
STIHL has developed a system for minimizing the vibration levels of handheld outdoor power equipment. The STIHL anti-vibration system helps reduce operator fatigue and provides a more comfortable working experience.
STIHL ElastoStart™
The ElastoStart™ starter handle is an exclusive feature of STIHL. It is a starting grip with a built-in shock absorber that helps reduce the effort when pulling on the starter cord. The ElastoStart™ starter grip noticeably reduces the sudden peak forces (compression) normally felt during cranking. The forces which occur at the grip after the first compression stroke are smoothed out.

Side-Access Chain Tensioner


The side-access chain tensioner makes it much more convenient for the user to adjust the saw chain with a bar wrench as opposed to the typical location of the guide bar adjustment screw.

Fuel and oil caps with retainers


The fuel and oil cap retainers keep the caps attached to the unit for added convenience.

Adjustable Automatic Oiler


The Adjustable Automatic Oiler allows the user to adjust the lubricant of the guide bar and saw chain for different bar lengths and cutting conditions.

Decompression Valve


The decompression valve, also referred to as 'deco' or 'deco valve', vents compression in the cylinder for easier starting. The decompression valve temporarily reduces the compression in the combustion chamber during cranking and helps reduce the effort needed to pull the starter rope. It is opened manually and closes automatically as soon as the engine fires.

HD2 Air Filter
The new HD2 air filter on this unit is washable, providing extremely long filter life and lowering maintenance costs. The large surface area allows for longer run times between cleanings and high performance even while operating in dusty and dry conditions. Overall, the HD2 air filter provides better protection of the engine compared to standard air filters.

Specifications
POWER SOURCE
Gas
POWERHEAD WEIGHT
16.5 lbs.
GUIDE BAR LENGTH (Recommended)
25 in.
OILOMATIC® CHAIN
3/8" RS3
CHAIN OIL CAPACITY
13.5 oz.
ENGINE POWER
7.2 bhp
FUEL CAPACITY
28.7 oz.
DISPLACEMENT
5.56 cu. in.
Note: STIHL recommends #3624 (33 RS3 84) OILOMATIC® saw chain and 25" 3003 000 4030 Ematic™ guide bar combination. Compatible guide bar ranges: 16" to 36"
Request A Quote
Request A Quote On Anything
From Inventory To Service!