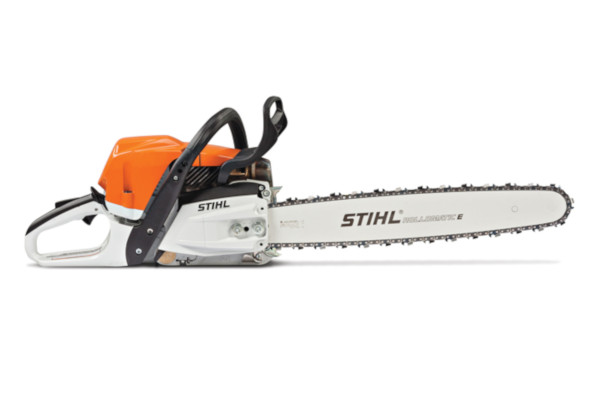 Double tap to zoom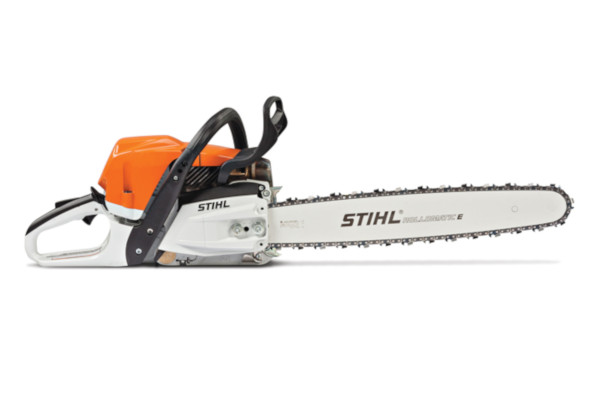 Features
Pre-Separation Air Filtration System
This time-saving technology boosts the efficiency of the engine's filter system, doubling the time between air filter cleanings. Air drawn into the engine is first separated via centrifugal force, ejecting the heavier dirt particles before being routed to the air filter. This pre-separation means less dirt to be captured by the air filter, resulting in less frequent cleaning and maintenance.
Side-Access Chain Tensioner
The side-access chain tensioner makes it much more convenient for the user to adjust the saw chain with a bar wrench as opposed to the typical location of the guide bar adjustment screw.
Decompression Valve
The decompression valve, also referred to as 'deco' or 'deco valve', vents compression in the cylinder for easier starting. The decompression valve temporarily reduces the compression in the combustion chamber during cranking and helps reduce the effort needed to pull the starter rope. It is opened manually and closes automatically as soon as the engine fires.
Anti-Vibration System
STIHL has developed a system for minimizing the vibration levels of handheld outdoor power equipment. The STIHL anti-vibration system helps reduce operator fatigue and provides a more comfortable working experience.
Wrap Handle (R)


Saw can be used in multiple positions for felling or limbing with hands in the proper positions.
Specifications
POWER SOURCE
Gas
POWERHEAD WEIGHT
12.3 lbs.
GUIDE BAR LENGTH (Recommended)
20 in.
OILOMATIC® CHAIN
3/8" RS3
CHAIN OIL CAPACITY
11 oz.
ENGINE POWER
4.69 bhp
FUEL CAPACITY
20.3 oz.
DISPLACEMENT
3.6 cu. in.
Note: STIHL recommends #3624 (33 RS3 72) OILOMATIC® saw chain and 20" 3003 008 8921 Ematic™ guide bar combination. Compatible guide bar ranges: 16" to 25"
Request A Quote
Request A Quote On Anything
From Inventory To Service!