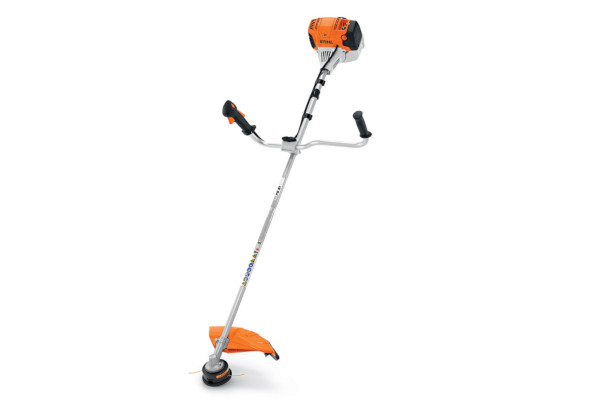 Double tap to zoom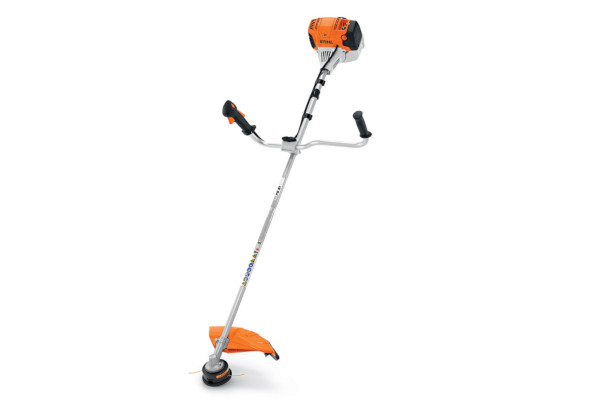 Features
Built in the USA


A majority of STIHL gasoline-powered units sold in the United States are built in the United States from domestic and foreign parts and components.

IntelliCarb™ Compensating Carburetor


The IntelliCarb™ Compensating Carburetor measures the air pressure on the clean side of the air filter and adjusts the metering diaphragm in the carburetor. This keeps the RPM at a consistent level, even when the air filter begins to clog.

Loop Handle (R)


Loop handle grass trimmers and brushcutters are ideal for trimming between bushes and shrubs and other areas where space is limited.

Anti-Vibration System


STIHL has a system for minimizing the vibration levels of handheld outdoor power equipment. The STIHL anti-vibration system helps reduce operator fatigue and provides a more comfortable working experience.

Simplified Starting Procedure


To get started, simply pump the fuel primer, set the choke and pull the starter cord. The built-in stop switch allows the user to turn off the engine with a simple press of the button. When the engine is off, the throttle lock automatically returns to the "start" setting. Your power tool will be ready to be started when you're ready to get back to work.

Reduced-Emission Engine Technology - Caring for Nature


The STIHL Inc. "Caring for Nature" seal identifies its powered products that are more environmentally conscious, producing zero or low exhaust emissions. STIHL Inc. defines "low exhaust emissions" as being cleaner than EPA and/or CARB exhaust emission standards.

Shoulder Strap / Carrying System


Using a shoulder strap or carrying system helps distribute the weight of the equipment for increased operator comfort and improved maneuverability.

Bike Handle


When used in conjunction with a harness, the bike handle allows the machine to be easily guided, enabling a smooth horizontal mowing action to cover large areas quickly and efficiently. With soft grips for increased comfort, the bike handle provides greater control and helps reduce operator fatigue.

Multi-Function Control Handle


Having easy access to all of the controls on one comfortable handle makes it easy to complete tasks so the operator's hand never has to leave the handle.

Tool-Free Handle Adjustment


The central wing nut enables easy adjustment without the use of tools. For transportation and space-saving storage, the handle can be rotated 90°.

Cutting Heads & Blades Selection Chart


Need help selecting a cutting head or blade for your STIHL trimmer or brushcutter?

Purge Pump Primer


By pressing the bulb, this small fuel pump delivers fuel to the carburetor, reducing the number of starting pulls needed after an extended break between uses.

Fully Lined Drive Shaft


Provides smooth operation and less vibration.

High Tech Polymer Housing


Housings are lightweight, withstand greater impact and are corrosion-resistant.

Protected Choke Lever/Knob


Helps prevent damage.

Throttle Trigger Interlock


Must be depressed before the trigger can be activated.

Air Filter Cover


Easily removed for fast and easy filter cleaning or replacement.

Protected or Enclosed Control Cables


Eliminate dangling and loose wires.

Heavy-Duty Steel-On-Steel Clutch


Centrifugal clutch is designed to reduce slippage.

Protected Spark Plug


Protected yet easy to change.

Protected Spark Arrestor Muffler


Has large baffles which reduce noise level and contains a screen designed to reduce the emission of sparks.

Upright Translucent Fuel Tank


Allows operator to easily check fuel level before starting work. Upright position makes it easier to refill.

Gearbox Attachments


Gearbox attachments are available for this model. View the 

interchangeable gearbox chart

 to find out which attachments work with this model.

Straps and Harnesses


They distribute the load from your hands to your shoulders. They also help reduce operator fatigue and make it easier to use trimmers, brushcutters and clearing saws for extended periods.

Trimmer Line


There's high-performance STIHL trimmer line for every operating condition. 

Trimmer Heads & Blades


Many trimmer heads and blades are available. 
Specifications
FS 91 Specifications - Professional Use
POWER SOURCE
Gas
WEIGHT
12.8 lbs.
CUTTING WIDTH
16.5 in.
ENGINE POWER
1.27 bhp
FUEL CAPACITY
24.0 oz.
DISPLACEMENT
1.73 cu. in.
Note: Weight displayed does not include cutting attachment or deflector.
Request A Quote
Request A Quote On Anything
From Inventory To Service!