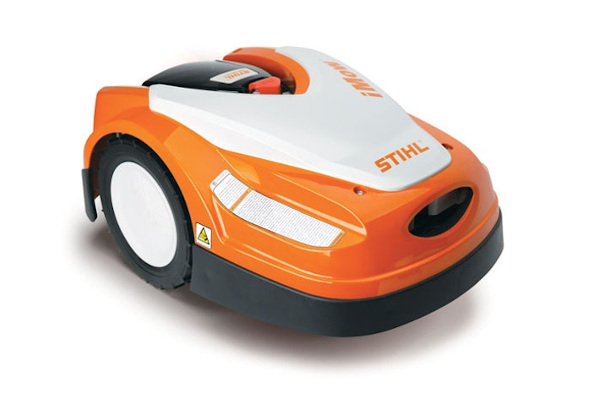 Double tap to zoom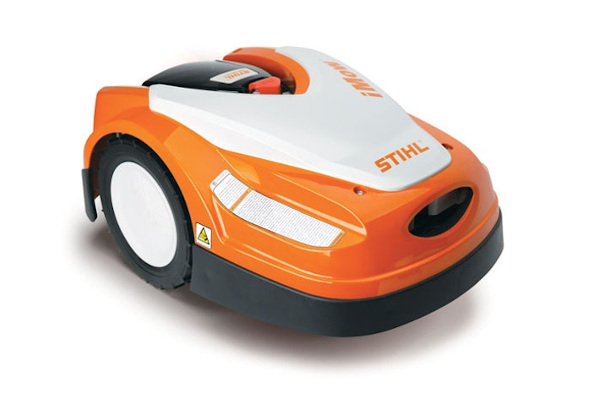 Features
Flexible programming with user-configured "Active Times"
Adjust mowing times, even when iMOW® is in operation.
RMI - More Intelligence – A Mower That Thinks
iMow

®

has a fully automated mowing plan tailored to your yard. It's fast and easy to use for a great looking lawn.
Security and Theft Prevention
Thanks to a user-generated security PIN and geofencing technologies, the iMOW® provides users with exceptional security. Users are notified via the STIHL app if the device is removed from their yard, and the PIN can only be reset by the STIHL Branch or Distributor.
Safety
If someone attempts to lift or tip the iMOW®, the mowing blade is designed to stop.
A Beautiful Lawn in Every Way
iMow

®

has an edge mowing option to get a clean cut along the edges of your mowing area.
Automatic charging
Features automatic charging.
Automatic mowing
The iMOW® can automatically adapt to handle a variety of conditions and terrain.
Weather-resistant design and built-in rain sensor
Features a weather-resistant design with a built-in rain sensor.
LTE Connectivity
Connect to iMOW® via AT&T LTE cellular network.
Hood Sensor
A hood sensor allows iMOW® to work around obstacles.
Automated lawn mowing
Mows lawn automatically.
Auto-adjust mowing time capability
Features auto-adjust mowing time capability.
Cutting heights range from .79" – 2.4" with central cutting height adjustment
A wide range of cutting heights.
Built-in, intuitive LED control panel
The iMOW® features an intuitive LED control panel.
RMI - Quiet
iMow

®

mows so quietly, your neighbors will hardly notice it's there. Plus, iMow

®

emits no exhaust emissions while working.
RMI - Dealer Installation
You'll get the personal advice and professional installation you need, right from the start, from your STIHL iMow

®

Dealer.
NOTE: Installation costs not included.
Powered by STIHL Lithium-Ion battery technology
STIHL iMOW® is powered by STIHL Lithium-Ion battery technology.
RMI - Mows Evenly Across All Areas
iMow

®

can be programmed to mow a variety of yard layouts (like a front or back yard).
Compact and highly maneuverable: 7.8" cutting width
Designed to cut yards up to .42 acre in about 28 hours per week.
RMI - Maximum Flexibility During Charging and Mowing
To cover a large area in a short time, iMow

®

can recharge faster and adjust its speed to suit the mowing conditions.
Smart lawn mowing using the STIHL iMOW® app and web portal
Manage mowing from your phone.
Unmatched, authorized STIHL iMOW® Dealer support
Unmatched support through authorized STIHL iMOW® Dealers.
Reduced-Emission Engine Technology - Caring for Nature
The STIHL Inc. "Caring for Nature" seal identifies its powered products that are more environmentally conscious, producing zero or low exhaust emissions. STIHL Inc. defines "low exhaust emissions" as being cleaner than EPA and/or CARB exhaust emission standards.
Specifications
| | |
| --- | --- |
| POWER SOURCE | Robotic |
| WEIGHT | 19.8 lbs. |
| CUTTING HEIGHT | .79" - 2.4" |
| MAXIMUM SLOPE | 22 |
| DOCKING STATION CORD | 32 ft. |
| AREA MOWED | 0.42 |
| BRUSHLESS MOTOR OUTPUT | 60 W |
| BATTERY ENERGY CONTENT | 80 Wh |
| RUN TIME | 60 min. |
Request A Quote
Request A Quote On Anything
From Inventory To Service!